With his squirt gun ready Elijah Cohen, 6, keeps a close eye on the deer Matt Middleton, a local farmer, hoists out of a freezer to send home to the Cohen family. Middleton had asked Ben Cohen, Elijah's father, that morning at the farmers market if he wanted the deer, a gesture Middleton made the year before. Only having to purchase butcher wrap and duct tape Ben gratefully accepted.
Robert Gee collapses in court Thursday, Feb. 26, 2015, after learning of his convictions before Judge Timothy G. Hicks during his bench trial in Muskegon County's 14th Circuit Court. Gee is charged with first-degree premeditated murder in the shooting death of 26-year-old motorcyclist, Jacob Rameau, last June in Muskegon Heights, Mich.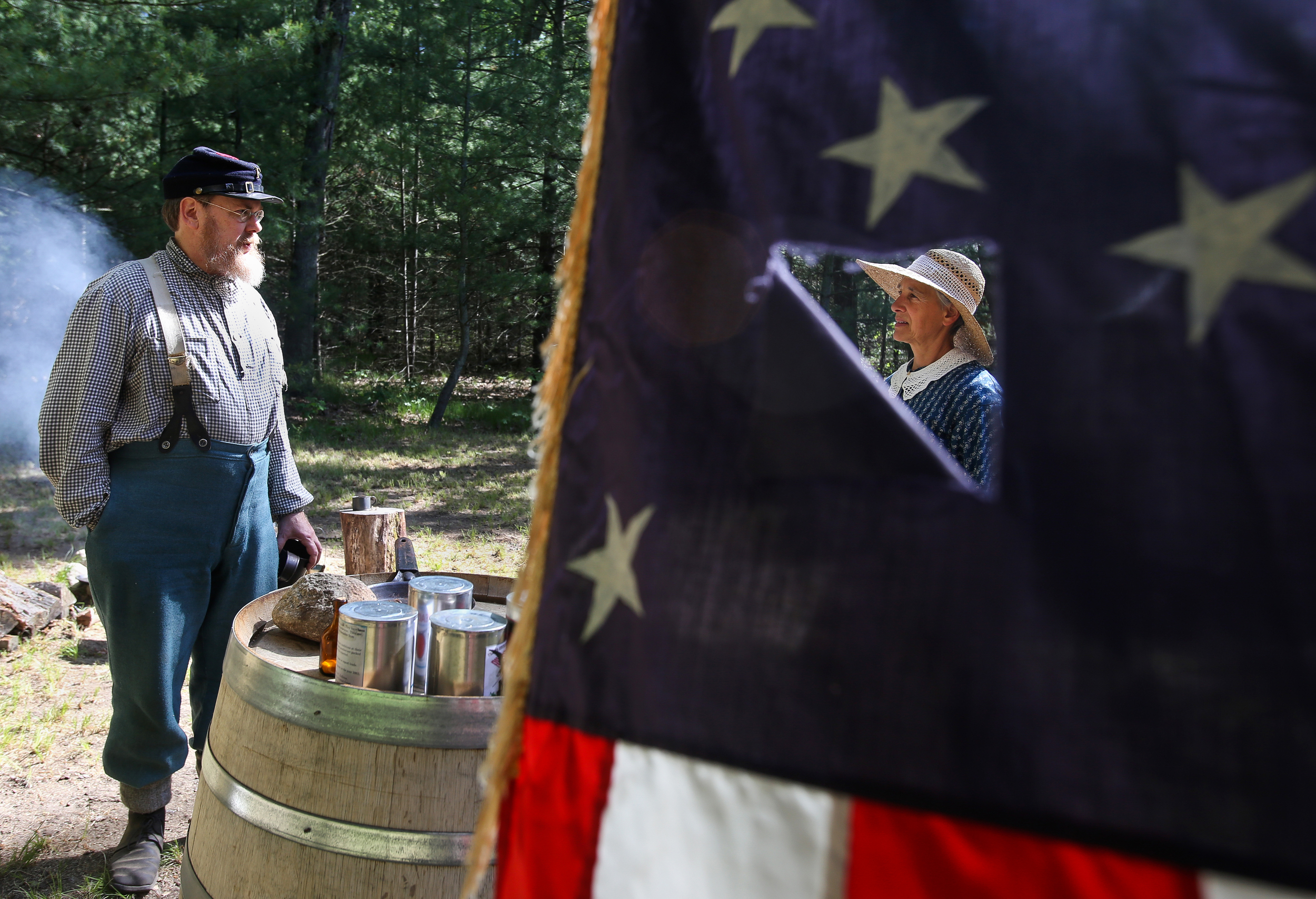 From left, John Braden, a camp guard interpreter speaks with Constance Campagna, a United States sanitary commission worker on the grounds of a replica Civil War camp at the Michigan's Heritage Park on opening day of it's first season in Whitehall, Mich. on Saturday, June 6, 2015.
Sebastyn Brown cheers on a friend as he receives his diploma during the Fruitport High School's Graduation ceremony at L.C. Walker Arena Friday, May, 29, 2015.
Law enforcement officers stand next to their police dogs keeping them calm and away from one another before the start of a ceremony commemorating the 20th anniversary of the shooting death of the Grand Haven police officer Scott Flahive in front of the Grand Haven Eagles building downtown Grand Haven on Dec. 13, 2014.
Lynn Edlund rests her head on the shoulder of Fruitport Township Deputy Fire Chief Brian Michelli outside of her rustic, one-story home as firefighters begin to control the blaze on South Brooks Road in Fruitport Township, Mich. on Nov. 13, 2014. Firefighters from several departments assisted Fruitport Township Fire Department with the fire that started in the chimney and quickly worked its way into the attic, devouring everything at the roof of the structure. "I'm in shock," Edlund said. "What do you… where are we going to live right now? All of our worldly possessions are in there."
Emerick Hobby, 2, sticks out his tongue after eating a handful of food coloring and shaving cream while dying an Easter Egg with the help of his mother at Orchard View Early Elementary Saturday, March 28, 2015. Emerick's brother Bentlee Hobby, 4, and friend Skylar Wright, 9, look over his shoulder to see what he has done.
Calvin Larson of Muskegon, reals up his second perch of the day while fishing Muskegon Lake with a friend, Ron Sweet, not far off the shore near Hartshorn Marina. Larson and Sweet estimated the ice to be 20 inches thick.
Military aircraft from the World War II era fly over downtown Muskegon to kick off the Muskegon Memorial Day Parade, Monday morning, May 25, 2015.
Polar Plunge participants react after jumping into Muskegon Lake during Muskegon's Polar Plunge on Feb. 7, 2015. Two hundred and eighty-nine people took a dip in Muskegon Lake to raise $63,868 for Special Olympics Michigan. The temperature was in the 30s and the water was ice cold.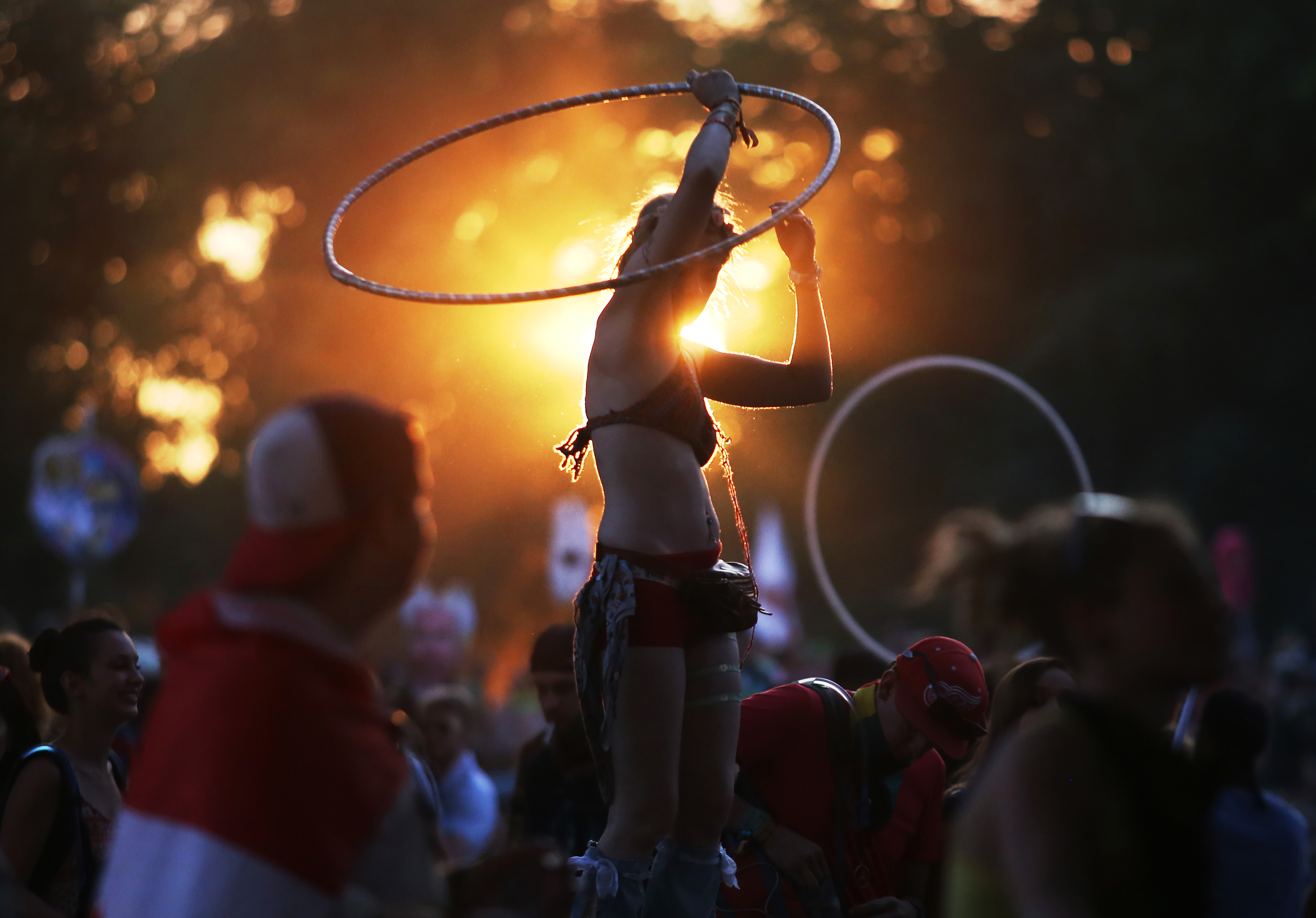 Ashley Landau of Chicago, Ill., center, moves with the rhythm and her hula hoop to The String Cheese Incident during their performance at Electric Forest's Ranch Arena in Rothbury, Mich. on Saturday, June 27, 2015.